The World According to Chef Rafaeli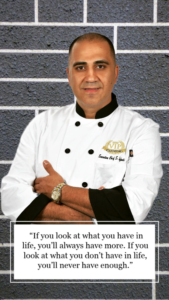 For Travelling Executive Chef Rafaeli, life is an adventurous journey. From his birthplace in Uzbekistan to his current home in New York, his destiny included emigrating to Israel with his family at the age of nine.
It was there that he fell in love with cooking just a couple of years later, rolling dough into matzoh balls with his mother – who was clearly an excellent teacher! Still today, he cooks from his family recipes, with many of his favorite dishes rooted in childhood memories.
Early Years in the Kitchen
Starting work in a restaurant in his mid-teens, young Chef Rafaeli was soon promoted to barman, and then maître d', having completed a specialty course. After his stint in the Israeli Army, he pursued his passion at the NetanhyaCulinary Academy, where he was taught by one of Israel's top chefs. Working as a cook at a five-star hotel, he began to develop his repertoire of signature dishes, many featuring the ingredients and condiments of his Central Asianbackground.
An ambitious young man, he traveled to the USA at the age of 23, eager to pursue his dream of becoming a chef. Before long, he was employed at one of the top wedding venues in New York.
International Cuisine
At home on three continents, Chef Rafaeli works confidently in a wide variety of cuisines: American, French, Russian, Middle Eastern, and Central Asian, as well as a memorable Brazilian-style barbecue.
On outdoor occasions, Chef Rafaeli often sets up a wood-fired kebab station that adds a smoky aroma to his koftas and shashliks, succulent after overnighting in his unique tenderizing marinade.
Something for Everyone
Protein-packed or plant-based, every dish in Chef Rafaeli's repertoire is wholesome. Featuring unusual veggie mixes, his colorful salad bowls are packed with nutrients. Although his cuisine leans heavily towards lamb, beef, and chicken, he enjoys exploring the possibilities of fish and vegetables as well, with vegan shawarma being one of his most innovative dishes.
Globetrotting Executive Chef
Multicultural and multilingual (he's fluent in Russian, Hebrew, English, and Bukharian), supervising staff at venues all over the world comes naturally to Travelling Executive Chef Rafaeli. Not only does he provide mouth-watering spreads at family celebrations, he also oversees meal preparation and presentation for get-away events like destination weddings and business seminars. 
His purpose is to ensure that every dish is a Chef Rafaeli creation. He explains: "Wherever I am  in the world, I'm always on the move when I cook, pouring positive energy into every pot."
What Lies Ahead?
Always stressing the importance of ingredients that are fresh and chemical-free, this healthy eating guru loves to teach people about good food in his Internet classes. Happy to share his expertise, he also works with new restaurants as a menu consultant.
Pivoting smoothly to television, he hosts cooking shows on the RTVI Russian television network.
To keep up with the latest news from Chef Rafaeli, follow him on all social media platforms. (Facebook, Instagram, Youtube, Pinterest, Tiktok.)